Commanders!
The day we've all been waiting for has finally arrived - Iron Conflict is now LIVE on Steam! Players are now able to enter the game and play. In addition, we'd like to invite you to join our Discord server: https://discord.gg/XuXPU8w. Discord is where we'll be collecting feedback and bug reports, so be sure to check it out!
Iron Conflict costs $14.99, with an additional launch week discount of 10%. Players who purchase the game during this period will receive several bonuses, which you can see in the picture below: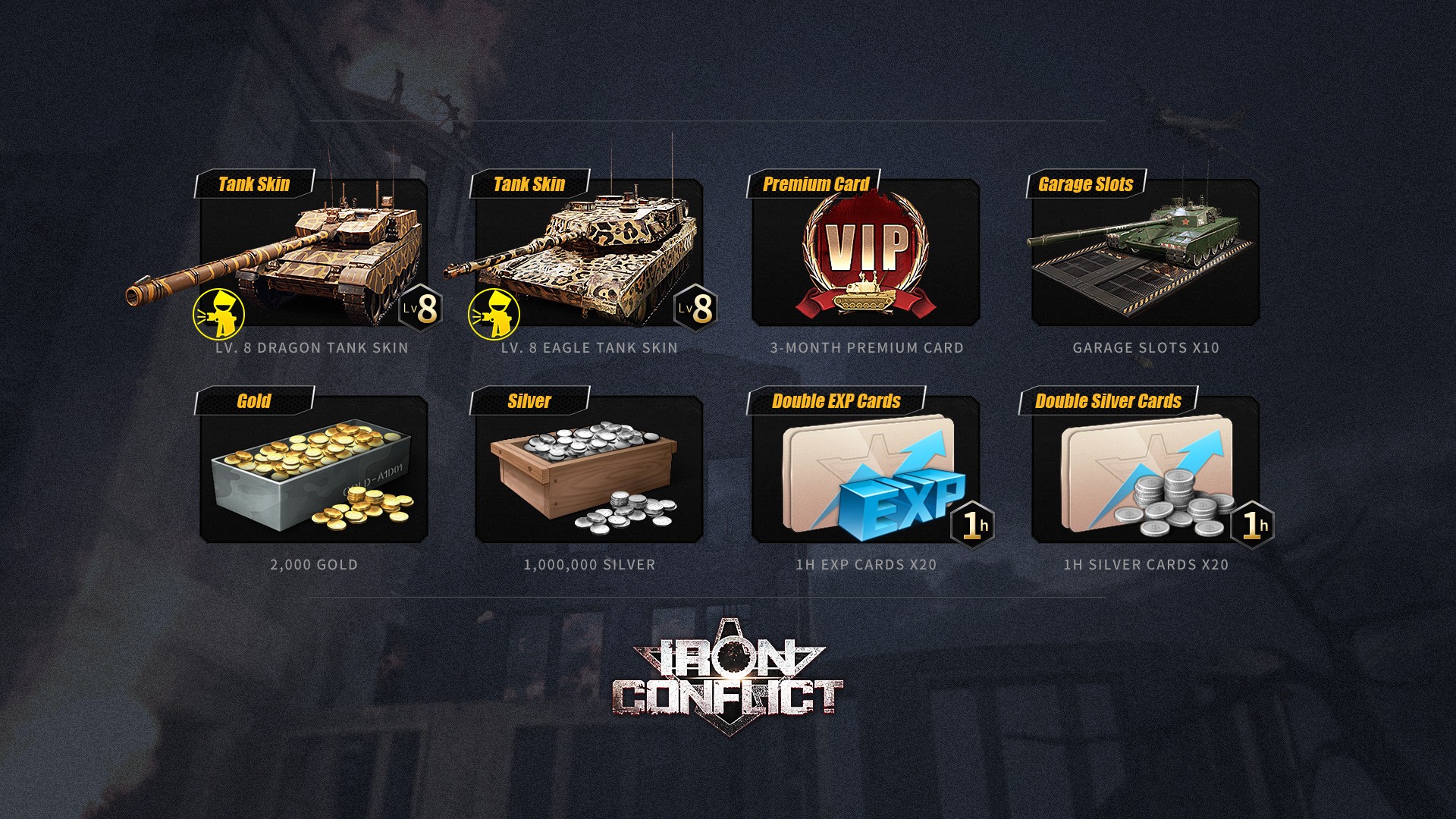 1 Tier 8 Dragon Faction Tank Skin
1 Tier 8 Eagle Faction Tank Skin
1 3-month Premium Card
5 Dragon Faction Garage Slots
5 Eagle Faction Garage Slots
2,000 Gold
1,000,000 Silver
20 1-hr Double EXP Cards
20 1-hr Double Silver Cards
We'd also like to remind you that players who reached one of the following unit tiers during the Playtest will receive additional Gold if they buy the game when it is released into Early Access.
Here is the reward chart:
Playtest Unit Tier - Reward for EA Release
Tier 5 Unit - 1000 Gold
Tier 6 Unit - 1500 Gold
Tier 7 Unit - 2500 Gold
Tier 8 Unit - 3500 Gold
Iron Conflict is a multiplayer real-time strategy and tactics game featuring hundreds of units spanning from the end of World War II through the modern era. Players create formations of three units each and team up with their friends, using their tactical skills and teamwork to defeat the enemy.
In addition to the 10v10 Encounter mode, the Early Access version also includes a Resource War mode and many other gameplay improvements. In the near future, a new map will be added as well as additional units through multiple free updates. Stay tuned on the official Steam page and Discord server for the latest news.
See the launch trailer here: https://www.youtube.com/watch?v=7mIzdZkrQvk
Join our Discord here: https://discord.gg/XuXPU8w
Follow us on Twitter: https://twitter.com/Iron__Conflict
Follow us on Instagram: https://www.instagram.com/ironconflictpc/
See you on the battlefield, Commanders!